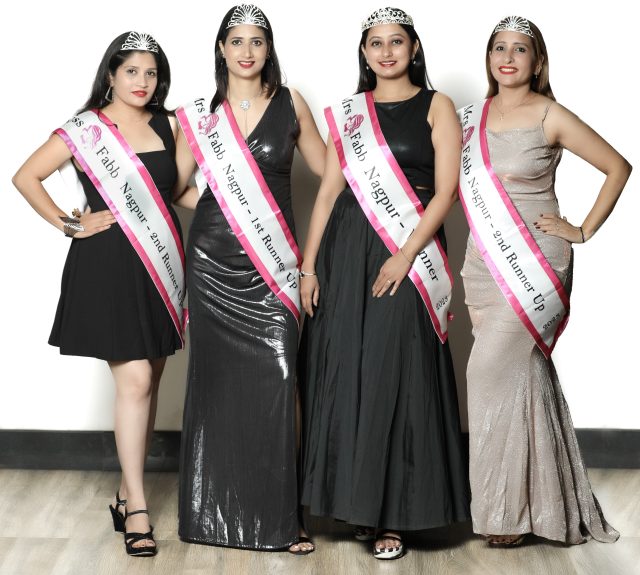 August 20th marked an extraordinary evening as the Miss Fabb, Mrs Fabb, and Mr Fabb Nagpur 2023 event unfolded at VR Nagpur, casting a spell of fascination on Nagpur's landscape. The city's crème de la crème gathered, anticipation hung in the air, and an aura of opulence enveloped the event, showcasing a blend of beauty, talent, and sophistication that left Nagpur mesmerized.
The spotlight shone on VR Nagpur, renowned for its elegance, modern amenities, and strategic location, as the perfect backdrop for this exquisite event. The Miss Fabb, Mrs Fabb, and Mr Fabb Nagpur 2023 event was elevated to unprecedented heights of luxury, the venue seamlessly merging sophistication with the glamour that radiated from every aspect. As the night unfolded, the Miss Fabb, Mrs Fabb, and Mr Fabb Nagpur 2023 event evolved into a true masterpiece, painting the town with an aura of enchantment.
A passion project by Yash Bhuptani and Vaishali Varma, Miss Fabb emerged as a platform for women to thrive and excel, illuminating their paths with empowerment. The essence of Miss Fabb is to empower participants to become luminaries, reshaping societal norms and inspiring change.
A trailblazer, Miss Fabb is the only Indian pageant to conduct city-level auditions and finales across numerous cities, coupled with a comprehensive 5-day training in over 10 Indian cities. The Miss Fabb, Mrs Fabb, and Mr Fabb Nagpur 2023 events boast affiliations with industry stalwarts, rendering them among the most coveted pageants.
The Miss Fabb, Mrs Fabb, and Mr Fabb Nagpur 2023 event comprised three captivating rounds: Introduction, Walk, and Question and Answer. These segments showcased contestants' outward beauty as well as their inner grace and poise.
From a pool of over 3000 online registrations, 62 finalists emerged, spanning Miss, Mrs, and Mr categories. Their selection involved a meticulous process that commenced with a comprehensive audition attended by over 300 participants on August 6th, 2023, at VR Nagpur.
These finalists underwent intensive training, grooming, and etiquette sessions, equipping them for the grand finale and instilling life values and discipline.
Adding to the event's grandeur was an esteemed panel of judges, including Mr. Kranti Shanbhag, a celebrated Movie/Music Album/Web Series Producer from Mumbai, RJ Nisha from 92.7 Big FM Nagpur, Aadarsh Pathak, national winner of Mr Fabb India, and Ms. Reena Bhattacharya, winner of Mrs. Fabb Mumbai.
However, the climax was reached with the entrance of Kashish Ratnani, an acclaimed MTV Splitsvilla contestant, model, and esteemed jury member for the Miss Fabb, Mrs Fabb, and Mr Fabb Nagpur 2023 event. Kashish's presence ignited the audience, her star power evident. Her charisma and far-reaching social media influence drew a surge of eager fans hoping for a memorable selfie with the captivating personality.
Behind the scenes, dedicated partners played a vital role in bringing the event to life.
92.7 Big FM, the radio partner, resonated the event's excitement through the airwaves. Fashion Partners Trends, Levis, and Cinderbay School of Design Nagpur added style, elevating the evening's glamour. Agent Jack's Nagpur, the lounge partner, infused relaxation and luxury into the ambiance.
The event's dedication to holistic beauty and wellness was reflected by wellness partner VLCC. Bright Outdoor Media Ltd added a touch of glamour to the cityscape, while Capello Salon ensured every participant exuded radiance. Orane International School of Hair, Skin, Nail & Makeup, Nagpur, worked their magic to create stunning looks.
The evening's ambiance was expertly captured by photography partners Praful Urakude Photography and Vivek Khatri Photography. Chirag Vithalani, the official anchor, brought charisma to the proceedings, while Show Director & Choreographer Vaishali Varma infused the event with energy and grace.
As the evening unfolded, the winners emerged, each securing their title:
Miss Fabb Nagpur Winner 2023: Toshita Gabhane
Miss Fabb Nagpur 1st Runner Up 2023: Sakshi Wadaskar & Shrutika Wankhade
Miss Fabb Nagpur 2nd Runner Up 2023: Arya Mahurkar & Pranjali Sawarkar
Miss Fabb Popular Nagpur: Pranjali Sawarkar
Mrs Fabb Nagpur Winner 2023: Mrs Sayali Ashtankar
Mrs Fabb Nagpur 1st Runner Up 2023: Mrs Poonam Dhundhara
Mrs Fabb Nagpur 2nd Runner Up 2023: Mrs Priyanka Pillewan & Aarti
Mrs Fabb Popular Nagpur: Mrs Rashmi Joshi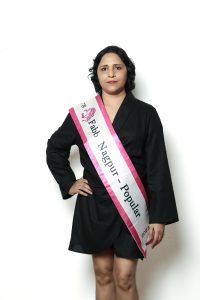 Mr Fabb Nagpur Winner 2023: Rahul Hathibed
Mr Fabb Popular Nagpur: Sanket Tidke
These triumphant individuals marked the beginning of a new era. As the event concluded, it was clear that the Miss Fabb, Mrs Fabb, and Mr Fabb Nagpur 2023 event had not only celebrated their excellence but had also ignited a spark that would inspire and dazzle for years to come.