On the evening of August 20th, Nagpur experienced an unprecedented level of enchantment as the Miss Fabb, Mrs Fabb, and Mr Fabb Nagpur 2023 concluded at the iconic VR Nagpur. This event, held at the prestigious VR Nagpur mall, brought together the city's elite for an extraordinary spectacle that left everyone spellbound.
The renowned VR Nagpur mall, known for its opulent ambiance, modern facilities, and prime location in the heart of Nagpur, provided the perfect setting to elevate the entire experience to new heights of luxury and grandeur. The culmination of the Miss Fabb, Mrs Fabb, and Mr Fabb Nagpur 2023 finale turned VR Nagpur into an exquisite canvas for this dazzling showcase.
The brainchild of Yash Bhuptani and Vaishali Varma, Miss Fabb was born from a deep desire to empower women striving for excellence in various spheres of life. The pageant's fundamental belief is to foster participants as role models who can reshape societal norms and pave new paths.
Distinguished by its approach, Miss Fabb is the only pageant in India that conducts auditions and finale shows at a city level across more than 10 cities, entailing a comprehensive 5-day training process. This extensive outreach offers unparalleled opportunities and a remarkable platform for talents across India. The esteemed Miss Fabb, Mrs Fabb, and Mr Fabb pageants feature a distinguished panel of industry leaders, solidifying their status among the most sought-after pageants in the country.
The Miss/Mrs/Mr Fabb Nagpur 2023 contest consisted of three captivating rounds: Introduction, Walk, and Question and Answer, designed to assess the contestants' holistic personalities.
A total of 62 finalists, spanning the Miss, Mrs, and Mr categories, earned their coveted spots in this highly anticipated grand finale. These 62 individuals were meticulously selected from over 3000 online registrations, a thorough process that involved comprehensive auditions with over 300 participants on August 6th, 2023, at VR Nagpur.
Following their selection, the 62 finalists underwent an intensive regimen of training, grooming, and etiquette sessions. This preparation extended beyond the finale, imparting profound insights and discipline that will resonate throughout their lives.
The evening's allure was further enhanced by the presence of a distinguished panel of judges. Notable figures like Mr. Kranti Shanbhag, a prominent Movie/Music Album/Web Series Producer from Mumbai; RJ Nisha from 92.7 Big FM Nagpur; National Mr Fabb India winner, Aadarsh Pathak; and Mrs. Fabb Mumbai title-holder, Ms. Reena Bhattacharya, lent their expertise and charm to the event.
Yet, the event's energy soared to unparalleled heights with the charismatic presence of Kashish Ratnani, a renowned MTV Splitsvilla contestant, model, and esteemed jury member for Miss Fabb, Mrs Fabb, Mr Fabb Nagpur 2023. Kashish's magnetic charm and substantial social media influence ignited the crowd, capturing the very essence of star power.
Behind this captivating spectacle stood a network of devoted partners whose unwavering support breathed life into the event.
92.7 Big FM, the radio partner, amplified the event's excitement through the airwaves. Fashion partners Trends, Levis, and Cinderbay School of Design Nagpur infused a stylish flair that elevated the evening's aesthetic. Agent Jack's Nagpur, the lounge partner, added an element of relaxation and luxury to the ambiance.
The event's commitment to comprehensive beauty and wellness was mirrored by wellness partner VLCC. Bright Outdoor Media Ltd added a touch of glamour to the cityscape, while Capello Salon ensured each participant radiated brilliance. Orane International School of Hair, Skin, Nail & Makeup, Nagpur worked their magic to craft stunning looks.
The evening's ambiance was masterfully captured by two exceptional photography partners, Praful Urakude Photography and Vivek Khatri Photography. Chirag Vithalani, the official anchor, lent his charisma to the proceedings, while Show Director & Choreographer Vaishali Varma poured energy and grace into the event.
The evening culminated in the crowning of Miss Fabb Nagpur, Mrs Fabb Nagpur, and Mr Fabb Nagpur 2023 winners. In an atmosphere brimming with glamour and grace, their journeys had led them to this triumphant juncture.
The titles were bestowed as follows:
Miss Fabb Nagpur Winner 2023: Toshita Gabhane
Miss Fabb Nagpur 1st Runner Up 2023: Sakshi Wadaskar & Shrutika Wankhade
Miss Fabb Nagpur 2nd Runner Up 2023: Arya Mahurkar & Pranjali Sawarkar
Miss Fabb Popular Nagpur: Pranjali Sawarkar
Mrs Fabb Nagpur Winner 2023: Mrs. Sayali Ashtankar
Mrs Fabb Nagpur 1st Runner Up 2023: Mrs. Poonam Dhundhara
Mrs Fabb Nagpur 2nd Runner Up 2023: Mrs. Priyanka Pillewan & Aarti
Mrs Fabb Popular Nagpur: Mrs. Rashmi Joshi
Mr Fabb Nagpur Winner 2023: Rahul Hathibed
Mr Fabb Popular Nagpur: Sanket Tidke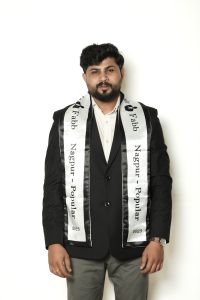 As the curtains closed on the Miss Fabb, Mrs Fabb, Mr Fabb Nagpur 2023 finale, it was evident that a new era of talent had dawned. The crowning of Miss Fabb Nagpur 2023, Mrs Fabb Nagpur, and Mr Fabb Nagpur 2023 marked the commencement of an extraordinary journey for these exceptional individuals. Their grace, charm, and dedication had captured the hearts of Nagpur and beyond, promising a future radiant with potential.
These coveted titleholders now stand as living symbols of Nagpur's elegance and allure. With their names etched into the city's history, they are poised to embark on a voyage that will inspire, captivate, and infuse Nagpur with pride. As these new luminaries rise, the legacy of Miss Fabb, Mrs Fabb, Mr Fabb Nagpur 2023 will continue to shine as a beacon of hope and aspiration for generations to come.