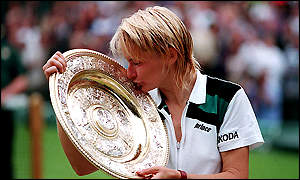 The image of a tearful Novotna, being consoled by the Duchess of Kent, that will remain ever-alive in tennis memory. Jana Novotna, who passed away on Sunday, is remembered by most of her mourning colleagues for her open, brave smile.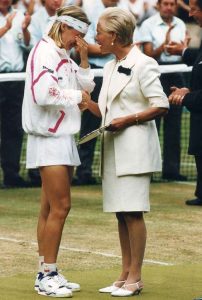 The Czech player had let slip a lead of 4-1 in the deciding set to go down 7-6 (6), 1-6, 6-4 in the 1993 Wimbledon final against Steffi Graf. At the presentation ceremony, the 24-year-old had dissolved into tears and the Duchess had lent a shoulder to cry on and said, "You'll win this one day." And she did. In her third final at the All England Club in 1998, Novotna claimed the big, shiny Venus Rosewater dish.
"I think about it all the time. I love it," Novotna had said in an interview in 2015.
"It's really funny because a lot of people think that losing to Steffi Graf in 1993 was a bad experience. For me, it was the best thing that happened to my life. The next day, because of everything that happened during the ceremony and during the match, I opened the newspapers and I was on the front page of every newspaper, I felt like a winner. And it really gave me so much publicity. Now it's something that people remember more than me actually winning Wimbledon."
"I'm dependent on tennis," she had said. "A day without it would be terrible."