The 21-year-old, Shree Saini, a resident of Washington state, was crowned Miss India USA 2017. said she wants to lead a life dedicated to service."I believe in working together to create a hole that is greater than the sum of its parts," Shree said, whose parents migrated to the US from Punjab.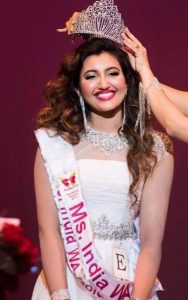 She said she wants to eliminate human trafficking and work towards promoting the importance of emotional well-being in the society.
Prachi Singh, a 22-year-old medical student from Connecticut was declared the first runner-up, while North Carolinas Fareena became the second runner-up at Miss India USA 2017 pageant.
At the beauty pageant, cancer surgeon Kavita Malhotra Pattani from Florida was declared Mrs India USA 2017.
Prerna was the first runner-up while Ishwarya was declared the second runner-up for this title.
Swapna Mannam, 17, from New Jersey was crowned with Miss Teen India USA 2017.
While Simran was the first runner-up, Kritika bagged the sash as the second runner-up.More than 50 contestants from over two dozen states participated in the three different pageants – Miss India USA, Miss Teen India USA and Mrs India USA.