Aizya (Naaz) Joshi becomes the first Indian transsexual to win the title of Ms World Diversity 2018. Competing against 22 participants in Dubai, Joshi won the pageant a second time in a row. She is also the first Indian transsexual woman to appear on the cover of a magazine and world's first woman to endorse a sanitary napkin that goes by the name of Klaren.
After facing discrimination and molestation, Joshi ran away from home at an early age and joined a dance bar to earn her living. Eventually, she started to show a talent for designing and decided to join NIFT, where she earned a spot for herself. She even worked with fashion bigwigs like Ritu Kumar and Ritu Beri. However, she is no longer associated with any fashion house as her experience over there didn't pan out very well.
She says "I started working with fashion designers after graduation, but I had to quit as I felt very unsafe there due to the gender issue, especially men would bad-eye me."
However, things changed for Joshi when she underwent a sex reassignment surgery in 2013 and started her modelling career eventually.
"The bright side came when Donald Trump (who owned Miss Universe pageant) changed the rules in 2012 that allowed transsexuals to participate in Miss Universe beauty pageant. That's when I decided to try my hand at modelling."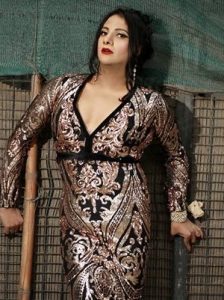 She further added that "I was surprised to see how respected transwomen are in villages and how people warmed up to me so soon."
Speaking about what she aims to do after winning the Ms World diversity pageant, Joshi adds, "I believe employment is very important. I plan to travel the world and talk about women empowerment, issues of the underprivileged." She is also a firm believer of action and wishes to set up a computer learning institute where people can acquire skills to find jobs.