Best known for their glamorous take on red carpet dressing the designer duo teamed up with online high street retailer Koovs for a limited-edition collection for the second time in a row.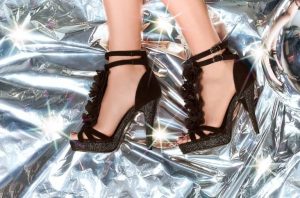 "The first collaboration was a huge success which is why we have come up with a second collaboration with Koovs. They are always doing something new and different so for us the idea of doing shoes was so exciting. Gauri and I have loved heels all our life, so we wanted to create something that we love wearing, that will go with our clothes or will go with pretty much everything. " explains Nainika Karan.
The collection of 19 pieces ranging from Rs 2,100 to Rs 3,000. "We love high heels we wanted the collection to be feminine and glamorous . We have used luxurious materials like velvets with metallic finishes to it, texturing it with flowers, pearls and glitter with a touch of feathers which is very Gauri & Nainika. It's very young, fun and very wearable," says Nainika Karan.