Gorgeous, stunning and extremely talented are the few words that describe Aishwarya Gawande Miss Fabb Nagpur 2018 winner. This stunning beauty queen from Nagpur not only won the coveted crown but conquered hearts as well. In a candid conversation with us, Aishwarya talks about her journey, her preparation for the main Miss Fabb Nagpur pageant and lots more.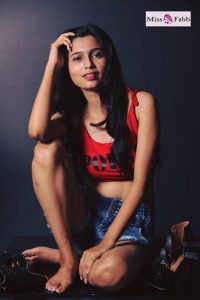 How does it feel to win the Miss Fabb Nagpur 2018 pageant? Has the feeling sunk in yet?
To win this title was like a dream come true…definitely the feeling has yet not sunk in …but the determination to work hard has strengthened more….and this feeling is really awesome…it has somehow changed and uplifted me
What was the first thought that came to your mind when they announced your name as the winner?
I was actually nervous before the name was announced and after the announcement i was shocked ….it was like a reward for all the hard work i had done…the first reaction was ….is this reality…or is a dream….this was a very emotional moment when my mom was proud of me
You can be honest about it, did you expect that win?
I actually did not expect the win….but was surely working hard and had the ambition to win it
How did your friends and family members react to your victory?
Friends and family were really very happy…even they had not thought that i would win…but my friends and cousins supported me throughout and yes they were confident that I will win…I could feel the happiness and pride they had for me…and they wanted me to move forward and bring more laurels…
How was your experience during Miss Fabb Nagpur 2018 pageant?
My experience was fabulous….it was like every time I was trying to improve myself…and this journey really helped me out in shaping myself…as a  new Aishwarya…with more confidence, self-belief and consistency.
What do you think were the judges looking at while deciding the winners?
Well that's really a tough question so as to what they looking up…but i would say that they were trying to find a perfect representative who is impressive, elegant and definitely a well-spoken Miss Fabb who is worthy without being biased.
Did you always want to be a beauty queen? If not a beauty queen what would you be?
Yes i always wanted to be a beauty queen…actually I really wish to become miss world and I am trying hard to achieve it…but if not that being an architecture student i would love to become a good urban planner and designer so as to design comfortable spaces for common public and ensure that i would make my country proud
Lastly, any message to all the aspiring girls who dream of being Miss Fabb India?
My message to all the girls would be that participating is the biggest achievement and for winning it always needs to be who you are…if you fake it then it definitely won't work…but confidence, happiness and hard work would surely bring out better outcome even if you win or lose.