Gorgeous, honest and extremely talented are the few words that describe Yashaswy Rao Miss Fabb Mumbai 2018 winner. This stunning beauty queen from Mumbai not only won the coveted crown but conquered hearts as well. In a candid conversation with us, Yashaswy talks about her journey, her preparation for the main Miss Fabb Mumbai pageant and lots more.
How does it feel to win the Miss Fabb Mumbai 2018 pageant? Has the feeling sunk in yet?
For any contender of any race, winning is the final goal. It felt amazing to win, the love that I got from everyone was amazing too!! I hope to spread smilies again in the national finale!! No the feeling is never going to sink, it will keep making me feel proud!! For a child who grew up wanting to be a a beauty queen, the feeling can never sink.
What was the first thought that came to your mind when they announced your name as the winner?
To be honest I had a very strong intuition, that my name would be called out as the winner, so I was very happy definitely but yet relaxed. For me all the girls were winners who could achieve reaching that stage.
You can be honest about it, did you expect that win?
I was almost sure that I would! Didn't have a doubtful second thought!!
How did your friends and family members react to your victory?
They were very astonished and happy at the same time. Astonished because they had never seen that side of me!!
How was your experience during Miss Fabb Mumbai 2018 pageant?
My experience had been truly amazing. Learnt a lot, was so happy to pose for pictures by professionals for the first time. Another childhood dream again. Each girl contesting was so special to,I have a knack for learning so learnt many things from them. Vaishali and yash had been such amazing mentors. But this was my best experience of my life, as it gave me something that's very special– A fulfilled childhood dream.
What do you think were the judges looking at while deciding the winners?
I felt they were judging how confident are you as a personality, they tested the energy that u shared with everyone on stage as confidence is the best ornament of a woman.
Did you always want to be a beauty queen? If not a beauty queen what would you be?
Yes I always wanted to be a beauty queen and a bollywood actress. Grew up watching Aishwarya Rai, karishma, kareena etc, so wanted to be a bollywood actor too. Nevertheless there is one thing I always wanted to be– An amazing person.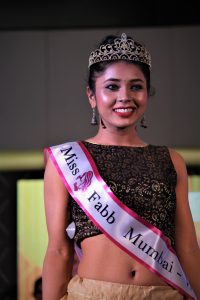 Lastly, any message to all the aspiring girls who dream of being Miss Fabb India?
Wear your confidence with full faith, and you would be where you want. Faith can actually move mountains.