Are you game for the biggest fashion event in your city? Auditions for the ultra glamorous and fabulous fashion show Miss Fabb, Mr. Fabb and Mrs. Fabb are to be held in your very own city Nagpur, brought to you by Goel Ganga on 25th November 2018, 11 am sharp. This event and concept is a brain child of Yash Bhuptani and Vaishali Varma of Qnox Advertising. So mark your calendars, set your reminders and don't forget to be glamorous and fabulous. Miss Fabb has had successful runs in Mumbai, Pune, Surat, Ahmedabad and many other cities to go. Qnox Advertising is Known for their class leading production and perfection, Qnox is know to deliver super hit show cities after cities. The audition of Miss Fabb Nagpur / Mrs Fabb Nagpur & Mr Fabb Nagpur will be held at the below mentioned address:
Glocal Square,
1st Floor,
Opp. Haldiram,
Sitabuldi,
Nagpur.
Participants interested for registration can visit http://www.missfabbindia.com/registration or call on +917021334080 Age group for Miss & Mr Category are 16 yrs to 30 yrs (un-married only) and Mrs Category is 18 yrs to 45 yrs.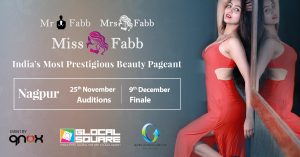 The audition will be overlooked and judged by well known jury members – Mr. Kranti Shanbagh (Movie Producer), Mr Roshan Oswal (CMD, Elements Media), Miss Archana Chandele (well known model from Nagpur) and the organizers of the event. The auditions will comprise of 2 rounds one of which will be a ramp walk to judge stage presence, poise and attitude. The second round will be an introduction round, in which the contestants will be required to give a short introduction of themselves and don't forget first impressions are the most lasting. The jury will be on the lookout for the perfect combination of good looks and talent in all the contestants.
The grand finale of the contests Miss Fabb Nagpur, Mr Fabb Nagpur and Mrs Fabb Nagpur to be held at the contemporary location Glocal Square, Sitabuldi, Nagpur on 9th December 2018, 5 PM Onwards
Hope you'll are all geared up with your best fashionable foot forward. Don't forget the audition is on 25th November, 2018 11am onwards. This could be your stairway to the world of glamor and fashion so make the most of it.