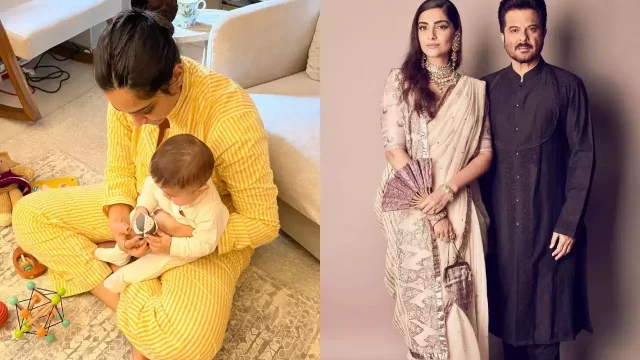 Celebrity couple Sonam Kapoor and Anand Ahuja celebrated their son Vayu Kapoor Ahuja's first birthday on Sunday. They shared glimpses of the joyful occasion on Monday, showcasing the family's traditional attire and the festive atmosphere. The celebration began with a puja at their Delhi home, followed by a family lunch.
Sonam took to her Instagram to share a series of photos capturing the special day. The snapshots portrayed the family members, including Sonam's parents Anil Kapoor and Sunita Kapoor, along with Anand's relatives, participating in the puja. Little Vayu, dressed in a turquoise kurta and white pants, was also featured in the heartwarming images. Another candid photo captured Sonam's joyful interaction with Vayu during the celebration, with Sonam herself dressed elegantly in a salwar suit.
In addition to the family moments, Sonam shared glimpses of the beautifully adorned interiors of their home. The pictures showcased their home temple and a vibrant table setting prepared for the birthday lunch. The decorations included colorful paper cranes hanging from the ceiling and an array of birthday balloons for Vayu.
In her heartfelt caption, Sonam expressed her gratitude for the blessings they've received. She wrote, "Our Vayu turned 1 yesterday. We did a lovely puja and lunch with the family. Thank you so much to the universe for giving us our blessing. #everydayphenomenal #vayusparents Special thanks to @ranipinklove for making a beautiful themed puja and lunch .. love you. Also thank you to @kavitasinghinteriors for the beautiful mandir she's given us."