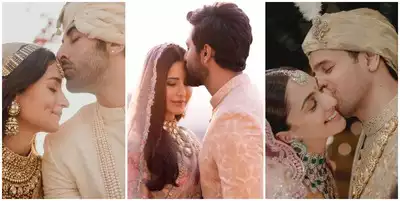 We inspect why shades of white, ivory and beige are becoming the favourite of Bollywood — and the world over. The answer has been in front of our faces all along, it seems.
Alia Bhatt created waves last week when she wore her white Sabyasachi wedding sari to receive her National Film Award from the President of India. People couldn't stop talking about how the actor's style is a masterclass in sustainability and how to re-wear your clothes, especially your wedding trousseau. Even we jumped on the bandwagon to share our opinion on the matter. But what popped out to me in the sea of homogenous fashion at the National Film Awards was the utter lack of colour. Almost all the recipients, including Allu Arjun, Kriti Sanon and even Pankaj Tripathi donned muted shades of ivory and white.
This waxed-out pallor has become the unofficial thappa of Bollywood, whether it is their weddings or any major jaunts. All the colour has been wrung out like from clothes left out too long in the June ki garmi. Even the runways seem to be reflecting this obsession. Fashion designer Nupur Kanoi believes this transition of wearing white to weddings and important gatherings (when it has been traditionally associated with funerals and deaths) reflects a shift in fashion and cultural norms.
There is, of course, the obvious reason that white provides essentially "a blank canvas for experimentation," celebrity stylist Rishi Raj noted. The shades provide versatility, explained Kanoi, allowing them to be paired with bold colours or used as a monochromatic statement.
But, other than that, Raj also attributes this rise to the growing emphasis on minimalism and elegance: "White and ivory exude simplicity and sophistication, making them a popular choice." Kanoi added that it reflects a desire for classic and sophisticated looks that never go out of style.
Another reason is the globalisation of fashion, according to Raj. He credited the explosion of white to continued exposure to Western bridal trends, "where white is symbolic of purity and new beginnings."
Celebrities are trend-setters, intentionally or not, and play an important role in reshaping the public's perception. New-age celebrities like Kriti Sanon, Alia Bhatt, and Mahira Khan by choosing colours like white are showing that white doesn't necessarily carry the same connotations it once did. In their quest for uniqueness though they have ended up looking the exact same. As it is evidenced by the same bridal lehengas, jewellery and colours all of them seem to be wearing (remember the most recent 'white wedding' in Udaipur?).
Anuradha Chandrashekar, cofounder of ICH NEXT, an Indian wear forecasting firm, pointed out the most compulsive rationale behind this obsession with pallid beiges and whites — the emergence and growing popularity of quiet luxury.