Truly a beauty with brains, and a powerhouse of talent, newly-crowned Miss Fabb Nagpur 2020 title holder. She is spontaneous, confident, gorgeous and a natural beauty queen. We witnessed her sincere smile, genuine demeanour and amicable aura during the course of this conversation. In this exclusive interview, Dr. Mohini Solanki, talks about her transformational journey, things that she is passionate about and her plans going forward.
So without any further ado let's get to know this gorgeous girl with a beautiful heart.
How was your journey with Miss Fabb? How did it transform you?
My journey was fabulous to say the least, being a doctor I wasn't even aware there was of a model
in me. Its thanks to Miss Fabb that helped me unleash that side of me and transformed me into this
confident, ready to rock the ramp kinda diva. I am blessed to have come across a platform like Miss
Fabb.
My mentors Vaishali Mam and Yash Sir groomed me so well. They trained us not only in aspects
relating to women empowerment, modelling or fashion but also about prepared us to be confident,
bold and spontaneous. It was like a 360degree transformation for me.
What tips would you like to give to aspiring models/contestants?
I would like to tell them to be optimistic about the future and to give their one hundred percent out
there. You will learn numerous new skills and would help you to build a career, raise confidence
which will help you thrive in all opportunities that come your way in the future.
How will you use this title of Miss/Mrs/Mr Fabb for the betterment of society?
With winning such a coveted Title, I find it a huge responsibility to do justice to this Title. Also the
way people and especially young girls look up to me has now changed completely, so I have to be
very aware and positive about my actions and their outcome. With regards to advancement of the
society I would love to bring positive changes or awareness in society along with the involvement of
the fashion and glamour industry to bring a good change a beautiful arena with the status that i have
gained through this Title of Miss Fabb.
What was that one thing that you will always remember that you learnt at Miss/Mrs/Mr Fabb?
There are myriad things which i have learned from Miss Fabb. Every day as a part of Miss Fabb was
an institution in itself. The thing which I will always remember and cherish is that I began this
beautiful journey with Miss Fabb, and that is something that I can never forget.
How big a role did Miss Fabb play in your career?
I am so thankful to Miss Fabb, they transformed my life completely and turned a girl next door like
me into this huge celebrity. After winning Miss Fabb I witnessed what stardom is and I became this
overnight celebrity which I still cannot fathom with. Today whatever I am is just because of Miss
Fabb. This crown is my pride. A doctor, who couldn't even imagine walking the ramp, is now this
celebrity model. Miss Fabb helped me pursue my passion for fashion and modelling.
Beauty or Brains? What according to you matter more?
You are asking a doctor this question? Brain!! Without a doubt
Beauty is everywhere, beauty in humanity, beauty is in nature, and beauty is in a child's smiling face.
We just need to be able to observe the beauty that holds this world together and to be smart
enough to design that beauty for ourselves. If there is a comparison of person's physical attributes
with his IQ then I would definitely say brain (intelligence), I mean your outlook towards life not how
many degrees you got in your pocket.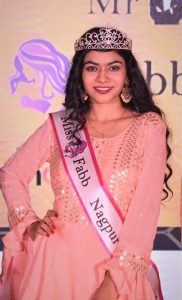 How did you prepare yourself for the contest?
I was very passionate about modelling and fashion. I believe if you desperately want something no
one can stop you. I put my 100% in the contest and winning the crown is testimony to that.
A huge shoutout to my mentors and the grooming sessions at Miss Fabb, which ultimately helped
me accomplish this feat.
Besides being a beauty queen/male model, what else are your talents? 
Well I am a practising doctor.
I am very good dancer and a good artist as well.
I am good at calligraphy as well.
And I am into sports as well.
Being immodest, I would like to say I am very versatile and an all rounder.
What are your plans for the future?
Women are beautiful creation of God who are blessed with courage and many talents, they have the
strength to change the society, country and even the world.
I would love to follow my passion of modelling, and do more justice to my title of Miss Fabb by
inspiring the youth and by doing some pilot projects which can help to bring unity, love and peace
for the betterment of world.